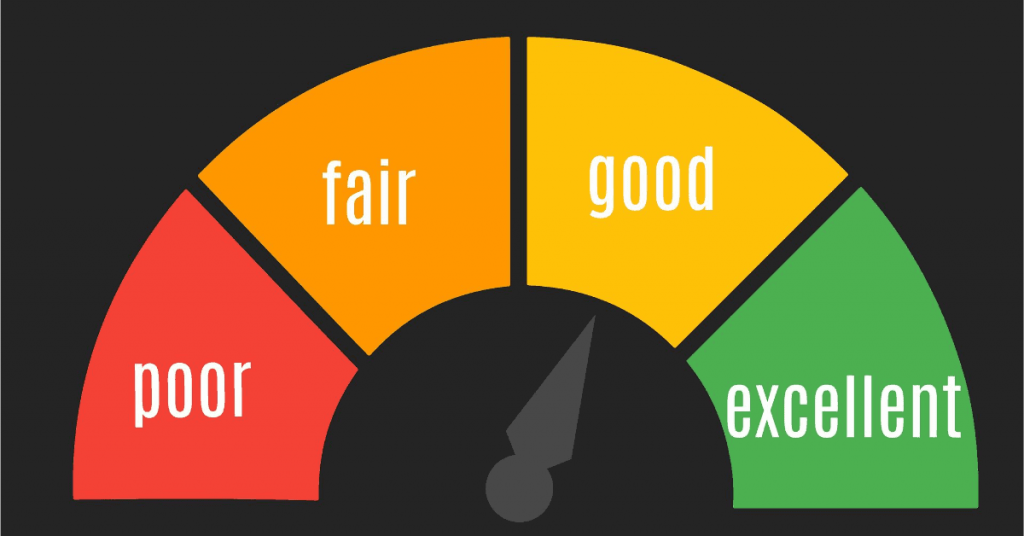 Think about getting into Uber cab and being greeted with your favourite song list through Spotify. Isn't amazing that Samsung phones have native Microsoft apps and can seamlessly integrate with the Microsoft apps we use daily. Imagine the possibilities for both corporations to tap into each other's customer base, product development and business opportunity.
While the success factors and goals might be straightforward for both organisations entering partnership, it is definitely not that simple to put together well-balanced KPIs and success factors that motivates both parties to follow it.
If you are part of an alliance role, managing an alliance team or working with an alliance member or alliance partner then this article can be useful in understanding and/ or setting up of the well-balanced KPIs and metrics to measure the strategic alliance performance.
AFTER SIGNING OF THE CONTRACT
After signing of the contract we need a plan and a scorecard (you can check a sample high-level plan here Alliance Plan). Then It's time to hit the road and set the ball rolling. Different companies follow a different approach – some companies have a joint scorecard and some will have an individual scorecard to measure and drive strategic alliance performance. Both companies have their own key priorities but the alliance folks from both companies have to work together to achieve the desired goals of the strategic alliance. Both should respect each other's working style and culture. Both should recognise the obstacles and potential threats. The success factors should be very clear and we should balance the scorecard enough for both the parties to work together with full motivation.
To have a systematic approach to driving the engagement and measuring the strategic alliance performance it is important to have a method and a scorecard. There are 4 ways we can approach a strategic alliance engagement –
Financial Fitness – Revenue, ROI, Profits
Strategic Fitness – Market share, Solution Acceptability, Customer Satisfaction
Operational Fitness – Training, Pipeline and Marketing Goals
Relationship Fitness – Cultural Fit, Trust, Resolving Problems, Decision-Making Process
If you look at my high-level plan Alliance Plan – I have detailed goals and metrics against each line item (but I cannot share as it is confidential) when I was driving Infosys relationship working for Microsoft. It is more inclined towards Enterprise and managing a global system integrator but this image below will provide you guidance to shape your metrics and scorecard to drive and measure strategic alliance performance aligned to any vertical or industry.
I am sharing the Alliances Scorecard followed by erstwhile Siebel Systems.
SIEBEL ALLIANCE SCORECARD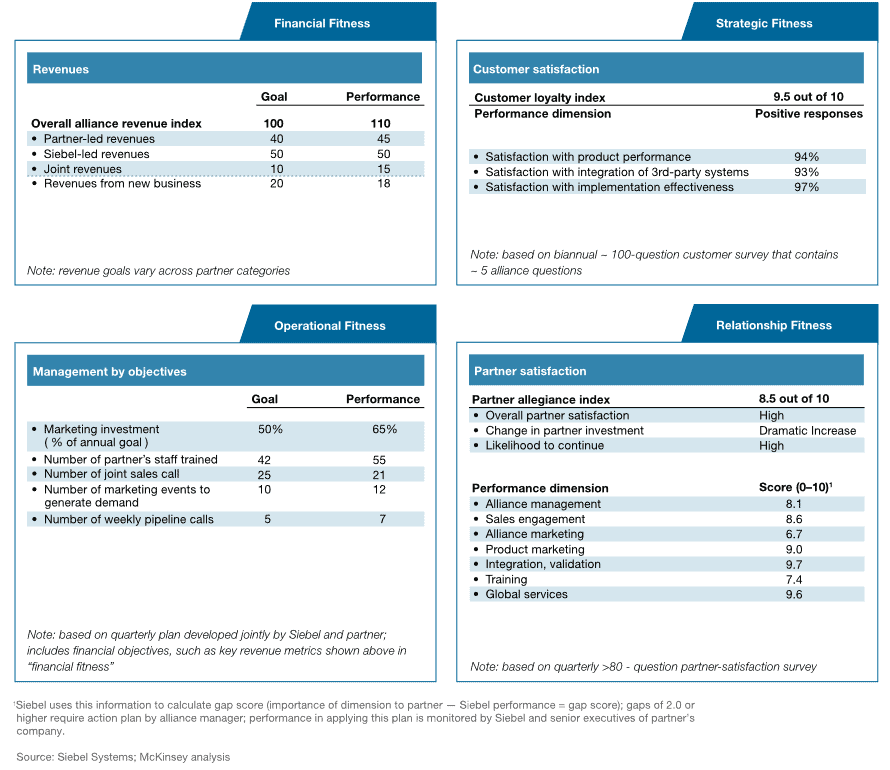 Financial Fitness: As the name suggests both the organisations will set up financial goals, profits, return on investment and the expected net present value of an alliance measuring its financial fitness. Some companies will measure partner-led revenues, net-new revenues, joint-revenue, influence revenue in the financial fitness. For one company it will sell a product and for other it can be services or even related products or services.
Strategic Fitness: The metrics related to product performance, integration with 3rd party systems, product satisfaction, customer loyalty and gaining mind share or gaining customers will fall under measurement of strategic fitness for both organisations.
Operational Fitness: We refer these goals as management by objectives. The number of partner's staff trained, the marketing events held, meeting the goals of pipeline calls, joint sales call, solution development as part of driving operational fitness.
Relationship Fitness: Before alliances lose interest and reduce investments it is important to keep track of partner allegiance index and measure different aspects of the performance dimension as mentioned in the image above. Essentially, we have to measure if the partners can trust each other, resolve issues faster, how fast decisions they can make, execs / sponsor involvement, regular rhythm of quarterly business review.
The KPIs, metrics or success factors to measure strategic alliances performance are very broad. In this article I am only talking about how to plan and set up KPIs in 4 categories, but we can also deliberate upon which are the most important KPIs, which KPIs can make or break the partnership, how do KPIs differ with verticals and industries, how to manage KPIs with internal and external stakeholders, we can discuss the KPIs in a much more detail along with metrics another time. We can discuss these in the next article or one of our live discussions in the group.
I wrote this article because Sheshanth Bhambore of Samsung (member of Strategic Alliances and Partner Ecosystem Community – website ) has put together some interesting KPIs for his role and organisation and wanted feedback and suggestions. I thought I will share my perspective. Let me know what do you think about this strategy and how do you guys go about setting up your KPIs/ metrics and measuring strategic alliance performance.
Reference: From articles published by Ernst and Bamford
Shahid Khan has spent 24 years with Apple, Intel, Microsoft and Dell-EMC in Sales and Alliances leadership roles managing Enterprise business in India and global markets. He is the founder of Jumpptech, a digital marketing and digital story telling company. Jumpptech website